constel/lichen – Tanya Fenkell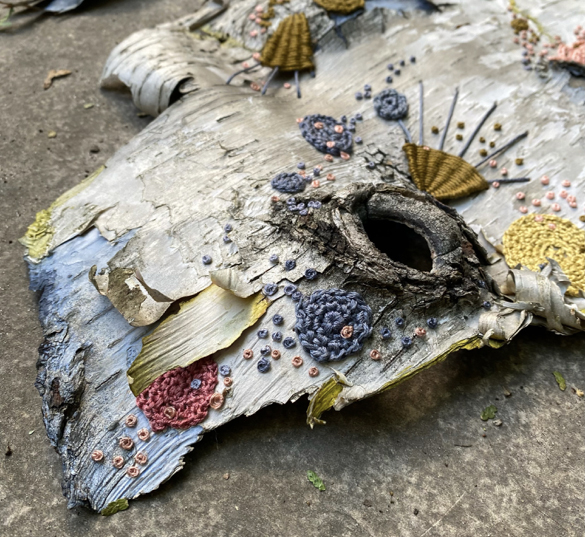 The 'constel/lichen' pieces are musings on interconnection, vulnerability and the transformative, inherently hopeful power of seeking new forms. 
Each piece of discarded birch bark grows textile shapes and life forms. Growths of different types collect on the birch to suggest the ways memories and experiences accumulate and create a palimpsest of meaning. A new visual story is coaxed out of the bark, connecting human experience with what grows naturally in the forest and suggesting lichen, moss, maps and constellations. We are neither separate from nor different than nature. Irregularities and randomness suggest the myriad ways we grow and deteriorate as we wend our way through a lifetime. Growth can be painful or ugly, but often it results in beautiful changes. Apparent decay may instead be the emergence of something unforeseen and cathartic. 
Invoking all the implications inherent in the shedding of old skins and natural growth, these pieces are like maps to a new and unexplored place.
2023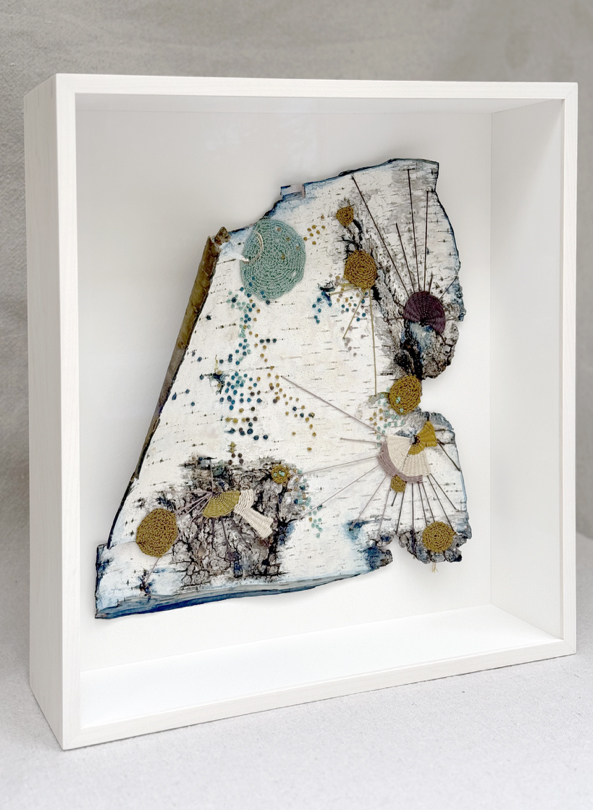 To bond is to imprint or join, to create a connection out of something shared or felt. The organic shapes and stitching on this piece were born out of sights and discoveries on forest walks. The ways lichens bond to their hosts is a permanent, life-altering connection, as many of the bonds we experience can be. Nature and humanity are in an essential, lifelong conversation, as in the interplay between the natural and stitched marks on the bark. The growths on the birch suggest how bonds and relationships we create and develop throughout life leave permanent marks on us.
In 'become,' natural lichen and stitched growths interact on the wide surface of the bark, suggesting the process of beginning to 'be' and the long duration of our evolution. The colours of this piece are gentle, like the slow metamorphosis of our individuality and maturity over time. The stitched embellishments burst into being, gesturing towards self-actualization, fulfilment, and gratification. The soft colours also suggest how nature works its magic calmly, slowly and quietly in stark contrast to the speed at which human intervention can destroy it. The beauty in subtlety is never more clear than in the woods.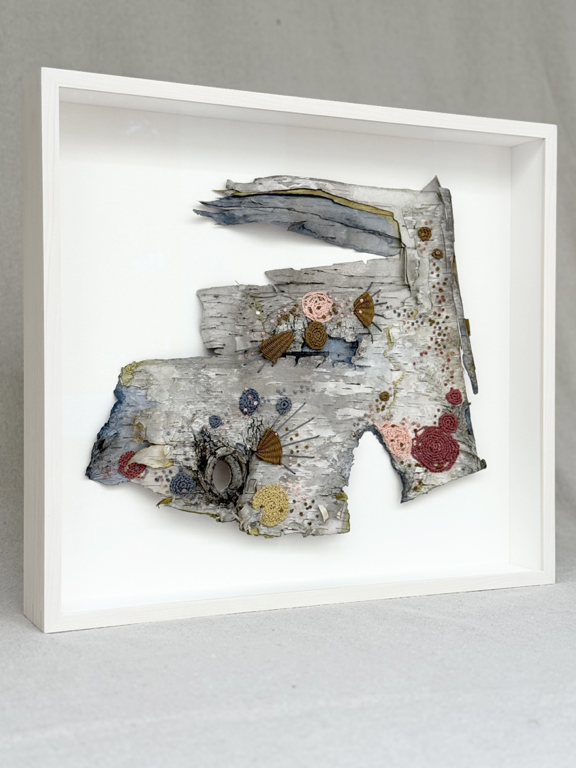 The colours in 'emerge' suggest radical change or magical transformation. The stitchery, painting and natural materials in this piece continue the conversation about human and natural interaction and interdependence. 
As lichen and moss appear suddenly in a new spot, there are times that we emerge from or within our lives. This emergence can be startling, painful or exciting; directions that were unforeseen can suddenly seem right as old colours are discarded in favour of new bursts of growth. 
2023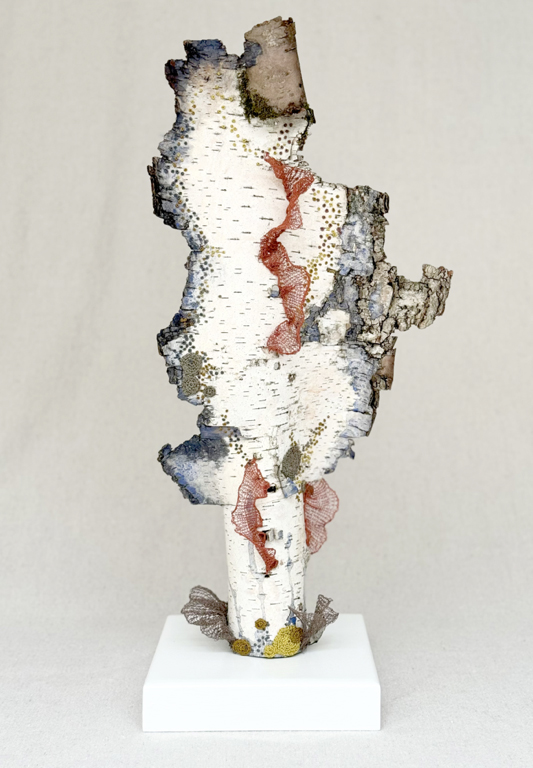 'Ignite' signifies potential, both positive and damaging. Organic shapes in knitted silk/metal curl up the last white, flame-like remnant of a rotted birch tree, while embroidered growths seem to burst forth along its edges. We are burning up the earth at an irreparable and unforgivable rate. Our interaction with nature needs tempering and the painted blues on this birch flame are cold embers of possibility. 
Ignite is about those moments in which we burst into life: we are lit up by our passions and enthusiasms if we allow them, and within that incipient space there is unlimited power.    
2023
$2400.